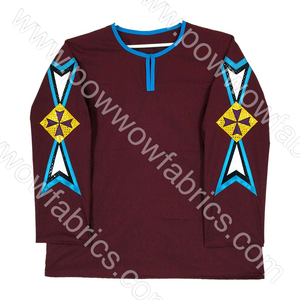 Mens Extra Large Traditional Shirt
Measurements
Shoulder to Shoulder: 21"
Chest: 54"
Sleeve Length: 25-1/2"
Shoulder to Hem: 31"
Upper Arm: 22"
If you have any questions about fit, please call us at (715) 834-0474 and we will be happy to help choose the right size. All sales are final.
Detail

Fabric
Burgundy cotton
Applique Type
Arrows
Appliques
Turquoise, white, and plum satin; black and gold sparkle dot
Notes
Fits height 5'9" to 6'0"
---