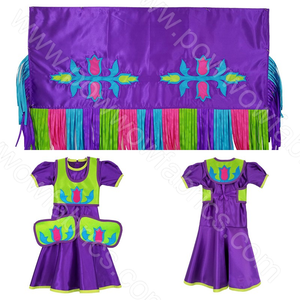 Girls 2-3 Fancy Shawl Outfit
Measurements

Shawl
38" wide by 16" long
9" fringes
Dress
Shoulder to Shoulder: 10"
Chest: 27"
Waist: 28"
Hips: 28-1/2"
Shoulder to Skirt Seam: 14-1/2"
Skirt Length: 12"
Total Dress Length: 26-1/2"


Vest
Length: 10"
Width: 15"
Shoulder to Shoulder: 8"
Cape Length: 6"
Leggings
Width: 9-1/4"
Height: 5-3/4"

If you have any questions about fit, please call us at (715) 834-0474 and we will be happy to help choose the right size. All sales are final.
Detail

Shawl Fabric
Purple satin
Shawl Applique Type
Woodland-inspired
Shawl Appliques
Turquoise, fuchsia, and lime satin
Shawl Fringe Color
Purple, turquoise, fuchsia, lime
Dress Fabric
Purple satin
Leggings/Vest/Cape Fabric
Lime satin
Leggings/Vest/Cape App Type
Woodland-inspired
Leggings/Vest/Cape Appliques
Turquoise and fuchsia satin
Notes
Zipper in back; fits height 36" to 40" and shoulder width up to 11"
---