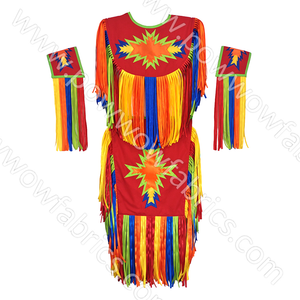 Boys 14-16 Grass Dance Outfit
Measurements

Yoke
Shoulder to Shoulder: 17-1/4"
Length: 12"
Apron
Width: 16-3/4"
Length: 19-3/4"
Cuffs
Width at Wrist: 10"
Width at Arm: 12"
Length: 6"


Fringe
Length: 14"

If you have any questions about fit, please call us at (715) 834-0474 and we will be happy to help choose the right size. All sales are final.
Detail

Base Color
Red
Applique Type
Geometric (complex)
Appliques
Royal, yellow gold, lime, and orange
Fringe Color
Red, orange, lime, yellow gold, and royal
Notes
Fits height 62" to 65"; Tie aprons on one at a time for a secure fit, DO NOT tie them together at the sides or the aprons may slide down while dancing.
---
We Also Recommend
---