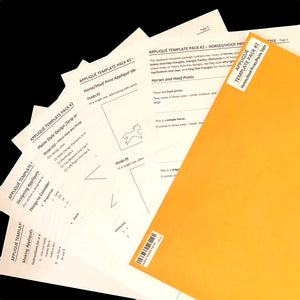 Applique Template Pack #2: Horses/Hoof Prints/Plains Style
The Appliqué Template Pack #2 contains the following:
36 Applique Templates -

machine cut and made of sturdy white poster board

Horses (Simple Horse, Ledger Horse) - Small, Medium, Large
Diamonds (Horse Diamonds, Hoof Diamonds) - Small, Medium, Large
Stairsteps/Pokey Stairsteps/Pokey Stairstep Frames (2 Stairsteps, 2 Pokey Stairsteps, 2 Pokey Stairstep Frames)  - Small, Large
Rectangles - Small, Large
Top/Bottom End Caps, Left/Right End Caps - Small, Large
Outer Triangles, Inner Triangles, Inner Triangle Frames (2 Outer Triangles, 2 Inner Triangles, 2 Inner Triangle Frames) - Small, Large
Long Thin Triangles - Small, Medium, Large


Instructions --  Details what you can create, with illustrations  showing combining different templates to make a variety of designs
Designing Appliqués --  Information about proportion, placement and shapes to use designing an outfit
Making Appliqués -- Step by step instructions on how to actually make the appliqués with colored photos for each step.
---
With our Fabric Packs, we've taken the guesswork out of coordinating color choices for appliques! We have Basic, Fire and Water, Brights and Lights, and Old Style fabric sets in bridal satin or sparkle dot, and we have collections of sparkle square, sparkle hologram square, and cotton/polyester broadcloth too... these go great with all of our Appliqué Template Packs!
---
We Also Recommend
---